About The Project
Operation Ninja S.T.A.R. was my fist paid crow-funding consulting project. The idea was to create a repository of legal documents that startups could use to fight so-called patent trolls. I worked closely with a company called Article One Partners, which is now part of RWS, to come up with the project concept, put together the campaign, write the project page copy, and produce a project video.
Even though the campaign was unsuccessful, the experience pushed me creatively and taught me that just about any subject, no matter how complex, can be explained in roughly 500.
How it Started
In early 2013 I got a message from someone who worked at the patent research firm Article One Partners (A.O.P.). They were interested in running a crowd-funding campaign focused on fighting so-called "patent trolls," companies that buy up old or unused software patents as a way to extort money from legitimate businesses through litigation or the threat of litigation. A.O.P. thought that running a crowd-funding campaign might be a way to raise awareness about the issue, contribute to the public good, and boost their brand. Even though I knew nothing about the patent system, I thought the project would be an exciting challenge, so I agreed to work with them.
The initial concept for the campaign was to raise $150,000 or more so that A.O.P. could disprove the validity of a single patent in court. A patent only has value if it's unique, so if you can prove that it isn't, then the troll loses its power. I knew from my work on A Kickstarter's Guide to Kickstarter that $150,000 would be a challenging goal to hit because the majority of projects raise $10,000 or less. Using my knowledge of crowd-funding, I helped A.O.P. reshape the project to something more manageable.
Instead of raising money for expensive court battles, A.O.P. would use the funds to create a database of "prior art." Prior art is any evidence that proves the concepts expressed in a patent existed in the public domain before the patent was issued, thereby making it invalid. Any company that was being sued by a patent troll would get free access to the evidence in the database, which they could use to defend themselves against the troll. Structuring the project this way allowed us to set a more achievable goal of $17,000.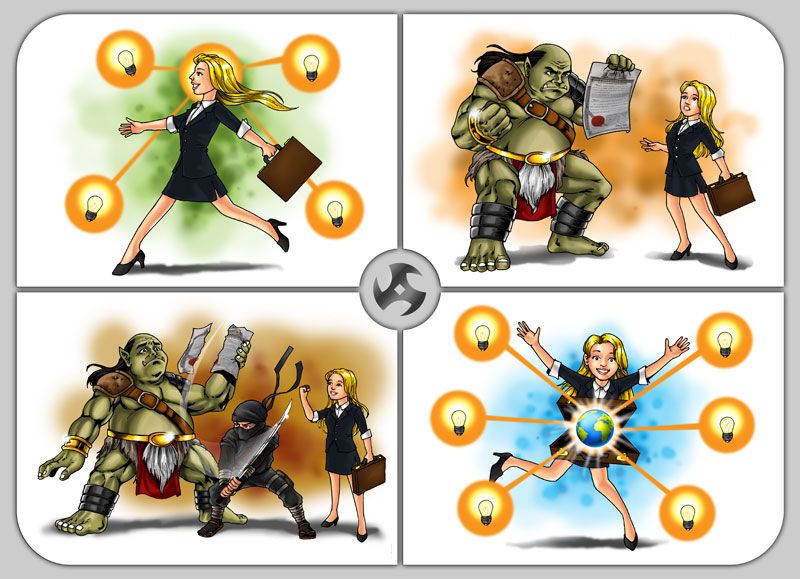 Once we had redefined the project, I helped A.O.P. shoot a project video, come up with rewards, and plan the launch. Around this time, President Obama started talking about the patent troll problem, turning this once-obscure topic into front-page news. We hurried to get everything ready and even managed to line up press coverage of our project in prominent media outlets. Then, due to forces beyond our control, the project had to be put on hold. We did eventually launched the campaign in December of 2013, but by that time, the press had moved on, and we had lost our momentum.
Even though the campaign did not turn out the way, I hoped, working with A.O.P. on this complex and important project has been a highlight of my career. If you are interested, you can check out the project page below.